Good Smile Company Yu-Gi-Oh! Pre-Orders
November 16 2015 – New York – 4K Media, the Konami Digital Entertainment, Inc. subsidiary managing the licensing and marketing of the Yu-Gi-Oh! brand, has announced its licensing agreement with Good Smile Company, who are a leader in the design, manufacturing and marketing of collectible figurines. As a result of the agreement, Good Smile Company will import Yu-Gi-Oh! figurines into North America, Europe and Australia. The first figures to be introduced are Yami Yugi figma and Dark Magician Girl scale figurine.
This deal marks the first time these Yu-Gi-Oh! figurines will be released worldwide simultaneously. The 1/7th scale painted PVC figures will each include a stand. The Yami Yugi figure is articulated and will be approximately 145mm in height, it includes a removable cape, a hand of cards and a single card as well as a detachable Duel Disk. The Dark Magician Girl figure is approximately 210mm high and is based on a summoning scene, showing her in a dynamic pose complete with a summoning circle base.

"We are delighted to work with Good Smile Company in bringing these wonderfully exquisite figurines to fans in North America, Europe and Australia," said Jennifer Coleman, 4K Media's Vice President of Licensing & Marketing. "Today's news represents our ongoing commitment to enrich the Yu-Gi-Oh! brand by adding new layers to the collectible experience and expanding its reach."
"Yu-Gi-Oh! is a globally beloved franchise with very active fans that are always looking for new ways to enjoy their favorite characters," added Max Watanabe, of Max Factory (a sister company of Good Smile Company). "Yami Yugi and Dark Magician Girl are a highly recognizable character and monster, making them perfect choices make available to a much broader audience of collectors."
Pre-orders for the figma Yami Yugi and 1/7 Dark Magician Girl are available via the Good Smile Online Shop http://goodsmile-global.ecq.sc/ this week.
Preorders will be open from 17th November 2015 (Tue) from 12:00JST until 16th December 2015 (Wed) at 21:00JST.
figma Yami Yugi
Details:
- Using the smooth yet posable joints of figma, you can act out a variety of different scenes.
- A flexible plastic is used for important areas, allowing proportions to be kept without compromising posability.
- The Millennium Puzzle as well as the Duel Disk that attaches to his left arm are both included.
- A removable cape, a hand of cards as well as a single card to hold are also all included.
- He comes with both a fearless smile as well as a glaring expression.
- The direction Yami is looking can be changed to suit his pose with one of three different eye parts.
- An articulated figma stand is included, which allows various poses to be taken.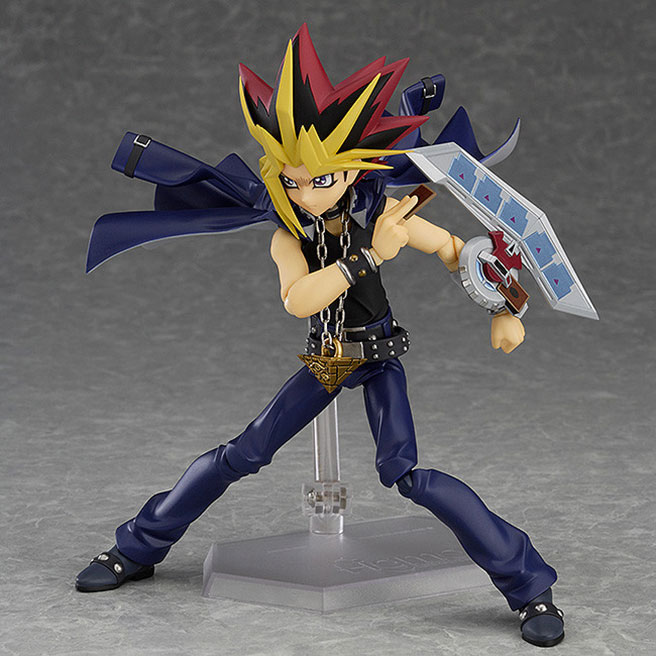 1/7 Dark Magician Girl figure (non-poseable)
The figure is based on Dark Magician Girl's summoning scene which allows for a lovely dynamic pose as well as a special base with a summoning circle to further bring out the atmosphere of the series.
Translucent parts and metallic paintwork are used on various parts of the figure to provide even more details to the intricate sculpt, creating a work of art that fans will be proud to add to their collections!